During this Zhineng Qigong workshop master Lu and Ling reveal to us the limitations of our comfort zone as a self-made prison. In addition we see and learn everything about the way to true freedom.
True freedom which you can find within yourself cannot easily be disrupted by your surroundings. You are independent of the place you're at, of what you're doing and from who you are with. The inner peace, unconditional love and power are within yourself. We think that we're free in our choices, but often the reality is different.
You want inner peace but the thoughts keep coming.
You want to quit over eating, smoking or drinking alcohol, but it doesn't work out the way you want it to.
Someone hurt you in the past and you decide to never see that person again. Still you are affected by the emotions and feelings with regard to the person concerned.
You get insight in how to change your old patterns but when push comes to shove, you respond the same way you have always done…
How is this possible? If you are not the real master of your own life, who is the surrogate master who controls your life? How can you become the master of your own life and find true freedom? Does true freedom exist?
Course Content
During this 5-day Zhineng Qigong workshop master Lu and master Ling share their wisdom on this subject with us. With this wisdom you recognize your own prison. The new reference framework and the Zhineng Qigong techniques will help you to set yourself free. In addition to the theory we will do Qigong exercises to apply and implement the wisdom and techniques right away.
Results
You are aware of your old reference framework that built your prison.
You are aware of the new reference framework and techniques which will help you to set yourself free.
You practice Zhineng Qigong the right way and experience true freedom.
Contents of the Zhineng Qigong workshop
During this 5-day workshop you learn to look at yourself in a different way and to identify problems. The human being is considered a whole, body and mind belong together. In addition to the theory of master Lu, his wisdom and power help you to get your energy working. You will feel powerful and harmonious again.
Day program
09:30 am – 12.30 pm: theory and Qigong exercises
12:30 pm – 13:30 pm: lunchbreak
13:30 pm – 14:30 pm: meditation
14:30 pm – 17:30 pm: theory or discussion about questions and Qigong exercises.
Many Zhineng teachers provide standard workshops. The knowledge and power of master Lu are unique. He provides Zhineng Qigong workshops based on the energy of the group and addresses the individual needs of the participants.
Fee
€595.- incl. VAT (water, tea and lunch are included)
It is possible to pay by instalments. If you wish to do so, please send an e-mail to info@lpmi.nl
Date
Wednesday up to and including Sunday planned in 2021
It is mandatory to attend all (5) days.
Time
Wed-Sat 9:30am – 17:30 hrs.
Sunday 9:30 – 14:00 hrs., we conclude the day after lunch
Language
English, there is assistance available for Dutch translations.
Venue
Frans Otten stadion, IJsbaanpad 43, 1076 CV Amsterdam (there are parking facilities available).
The five-day-workshop was a life changing experience for me. "Workshop" may sound non-binding but it was so overwhelming I surrendered myself to it entirely (the only other option was quitting). The feedback of all 38 participants was amazingly enthusiastic. One lady had only slept for 2 hours during those 5 days, but she wasn't even tired. When I rode my bike to the workshop early Sunday morning, I was greeted by complete strangers, and then I knew something had changed.
Sytze I am energetic and I do a lot during the day. However, my mind is never still land I would like to respond to situations in a more relaxed way. I started this workshop for no special reasons but it has turned out to be such a great gift to myself! I experience more peace and quiet and worry less about issues in my surroundings. My body feels flexible and I have recovered from recurrent injuries.
Marlous About Master Lu and Master Ling
Master Lu Zhengdao has been a Zhineng Qigong practitioner in China for 30 years. He is a first generation student of master Pang Ming the founder of Zhineng Qigong. After his graduation, master Lu was referred to Zhineng Qigong education by master Pang after which he represented the theory all over China. For years he participated in studies of the effects of Zhineng Qigong.
Master Ling has been a Zhineng Qigong practitioner for over 20 years. She used to work with Dr. Pang Ming at the Qigong university and at the hospital. She is a mentor and chief trainer of Zhineng Qigong at Dao QI World, and a nutritionist of combined Chinese and western medicine. Qigong is still being practiced on a daily basis in China, in the streets and in parks. For ages it represents a healthy mind combined with a healthy body in which guiding the Qi (energy) forms an essential aspect. Therefore, Qigong is one of the cornerstones on which the theory of acupuncture is based.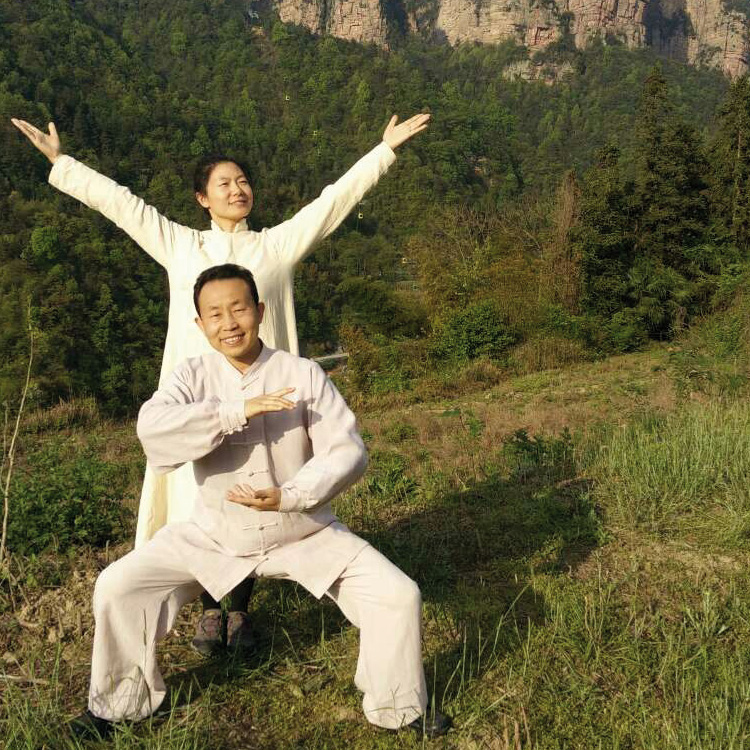 Dr. Pang Ming, the founder of Zhineng Qigong, conducted a lot of scientific research since the '80s, including measurements of Jong, Qi and Shen. Certain equipment showed that Shen is the most powerful source of energy to get our body into balance. Science also proved there is clear evidence of this holistic practice and that with the right practice, Shen can be used as a powerful medium for mental and physical recovery.